University of West London students visit Bugler Developments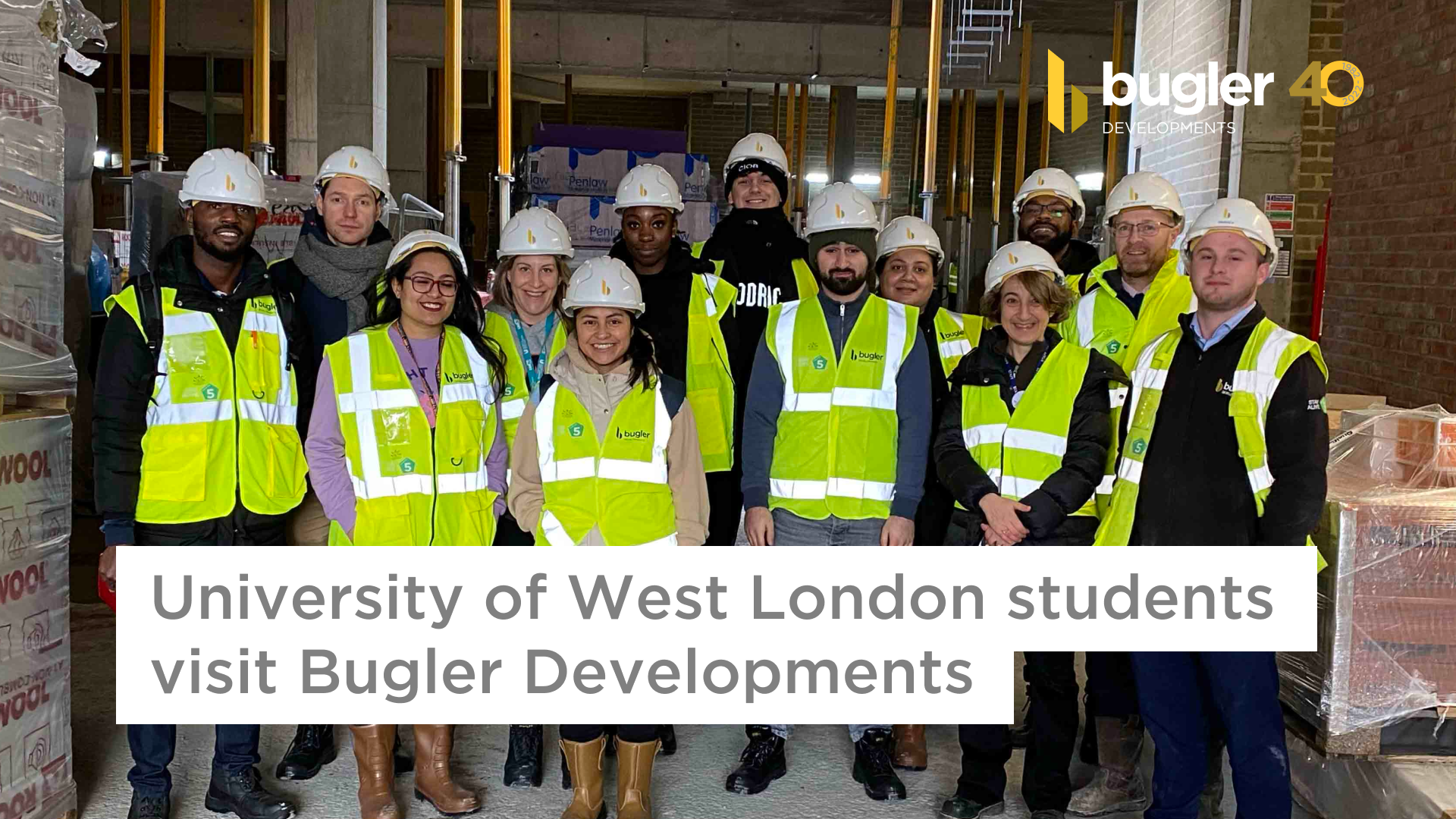 In early January, BSc and MSc students from the University of West London visited Bell Road for some hands-on experience at a live construction site to aid with their studies.
The Bugler Developments team hosted students across two days at our scheme of 127 apartments located in the heart of Hounslow. On each occasion, students were provided with the opportunity to walk the site with Project Manager Ricky McGuirk and Assistant Site Manager Harvey Crimmins.
The second part of the day was a presentation from Chief Operations Officer Jeremy Graham, Group Land Director James Chell and Pre-Construction Director David Culliton. This covered the Bell Road development, with insights into the pre-construction and build process. It also covered market conditions and current industry challenges.
After the event, James Chell said, "We were delighted to welcome Built Environment students and staff from University of West London to our Bell Road site, in the London Borough of Hounslow. This was another successful seminar and site visit between Bugler Developments Ltd. and the university. It is an excellent example of the industry working with the higher education sector to understand construction project risk and show practical examples. Bugler Developments see this as a key learning tool for the next generation of property and construction professionals".
Architect and Senior Lecturer in Built Environment, Dr Efcharis (Haroula) Balodimou, commented, "We thoroughly enjoyed two building site visits in January 2023 to Bugler Developments' Bell Road Housing scheme in Hounslow! Students were finally able to see how their three-year learning is applied to practice! Many thanks to the Management and Site teams for your time and explaining the design/construction processes and site progress so clearly! Invaluable…Looking forward to further collaborations!" 

What the students thought of the day
"Visiting Bugler Developments' site on Bell Road, Hounslow, I didn't know what to expect. We were given a presentation by David Culliton, Jeremy Graham and James Chell, who literally made practical my 3 years of study at UWL. The walk around on site was also amazing. I can only say thank you. P.S. Can I have a Job?" 
Eliass Arfal – Level 6 BSc Construction Project Management
"I enjoyed the very engaging walkabout. The presentation was very informative, and we were encouraged to ask questions. It is great to hear from top guys about challenges that industry is currently facing!" 
Milda Klimanskyte – Level 6 BSc Architectural Design Technology 
The session with the University of West London marked our sixth piece of collaborative work with the university, and all at the business are pleased with our strengthening relationship with those starting out in the sector.