Groundbreaking at Plashet Road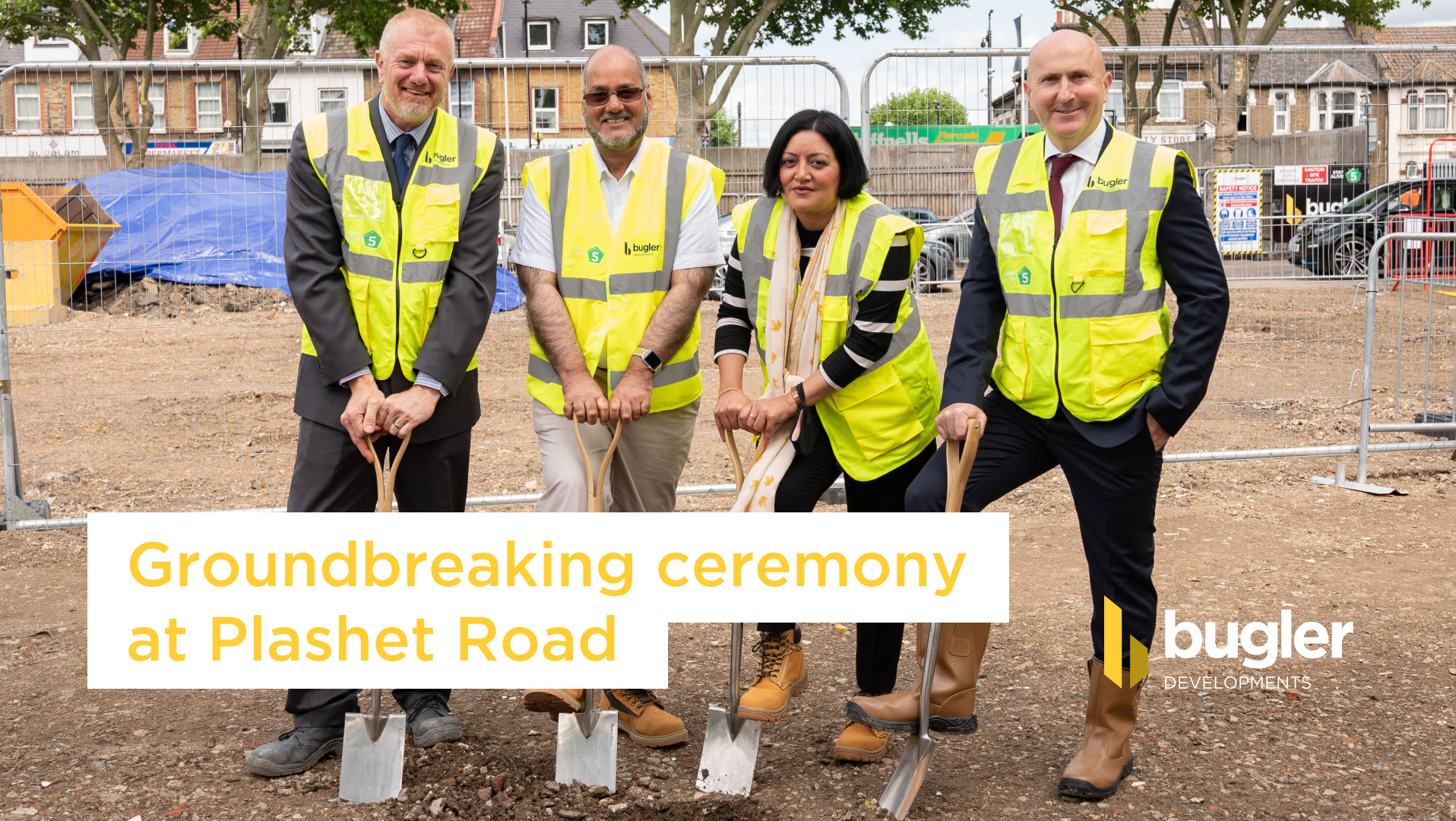 In early August, members of the Bugler Developments team and representatives from across the London Borough of Newham were pleased to be on site at Plashet Road for a groundbreaking ceremony.
We were delighted to welcome the Mayor of Newham, Rokhsana Fiaz, who broke the ground on site – an important moment, and the first stage of an exciting 65 affordable rent apartment scheme and community nursery built to Passivhaus principles.
Passivhaus is a leading low energy design standard, and is a highly effective way of providing high standards of comfort and health, as well as reducing energy use and carbon emissions from housing.
Also part of the team who celebrated the groundbreaking were Andy Bugler, CEO – Bugler Group; Jeremy Graham, Operations Director – Bugler Group; Mark Gjecaj, Helena O'Keeffe and Shamir Jethwa, who will all work on the Bugler team for our Plashet Road project. Raphael Abifade is a Newham native, having attended school a short walk from Plashet Road. He joins the Bugler Team having come through the Newham employment scheme – Our Newham Work, and is currently finishing at Didsbury Centre, another Bugler project in the Borough.
Andy Bugler, CEO – Bugler Group, said, "We have completed many successful projects in the London Borough of Newham and are currently in the finishing stages of a 148 unit project in East Ham for Populo (Newham's housing company).  Plashet Road is, however, our first scheme working directly for Newham and it was great to once again welcome Mayor Rokhsana Fiaz and to mark the occasion by "breaking the ground" ahead of what is going to be an exciting development of new homes for the local community. Passivhaus design principles mean that these homes will be more efficient, sustainable and deliver many benefits to their future homeowners. We are proud to be developing Passivhaus housing for Newham and our fully committed team will be bolstered by Raphael and several other Newham residents throughout the project.  We will be fully engaging with the local community and look forward to adding value throughout our time on site and in future years."