Dacorum Council Representatives provided with update on affordable home delivery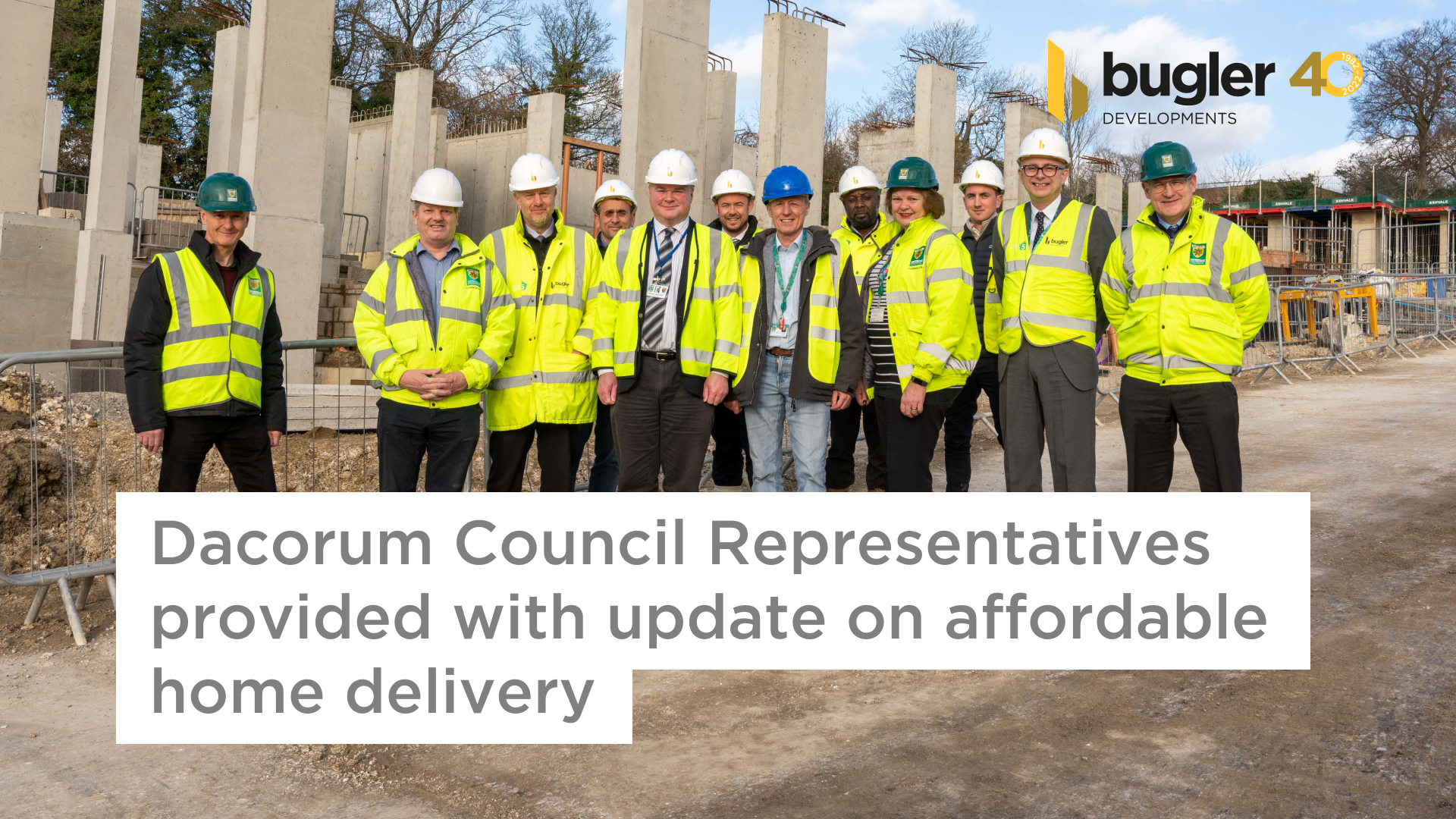 On 31st January, the Bugler Developments team welcomed representatives from Dacorum Borough Council for an update on our current projects for them across the Borough.
The teams met at Paradise Fields, in Hemel Hempstead, where we are building 58 apartments for affordable rent. Combined, we are currently delivering 115 new homes for Dacorum Borough Council.
Visitors to the site were initially provided with an induction and this was followed by a site walkaround of Paradise Fields, led by Project Manager, Andrew Ziadi.
This was followed by a presentation from Ben Ephgrave, our Construction Director, and Jeremy Graham, our Chief Operating Officer, on all Dacorum jobs being delivered by Bugler Developments. Paradise Fields, Randalls Ride, and five Garage Sites: Sempill Road, Dione Road, Sleddale Road, Housewood End (all Hemel Hempstead), and Beechfield (Kings Langley).
Refreshments and an opportunity for questions and answers followed.
Ben Ephgrave, Bugler Developments Construction Director, said, "The Bugler Developments team enjoyed the opportunity to brief key personnel from Dacorum Borough Council on our current live projects for them, and latest progress across all seven sites. Paradise Fields also provided an excellent chance for council representatives to see first hand work that will enable more high quality affordable homes to be delivered for the local community."
Councillor Margaret Griffiths, Deputy Leader of the Council and Portfolio Holder for Housing Services, said, "The Paradise Fields development will provide the type of sustainable and energy-efficient affordable housing which is so vital in enabling local communities to thrive, particularly with the significant challenges many are facing in Dacorum because of the cost-of-living crisis.
Over the last 10 years, the Council has delivered hundreds of new homes to meet housing need across the borough and we remain absolutely committed to meeting demand in the coming years. Everyone has the right to be able to live in a safe, affordable and high-quality home."