Celebrating Topping Out at Windsor Close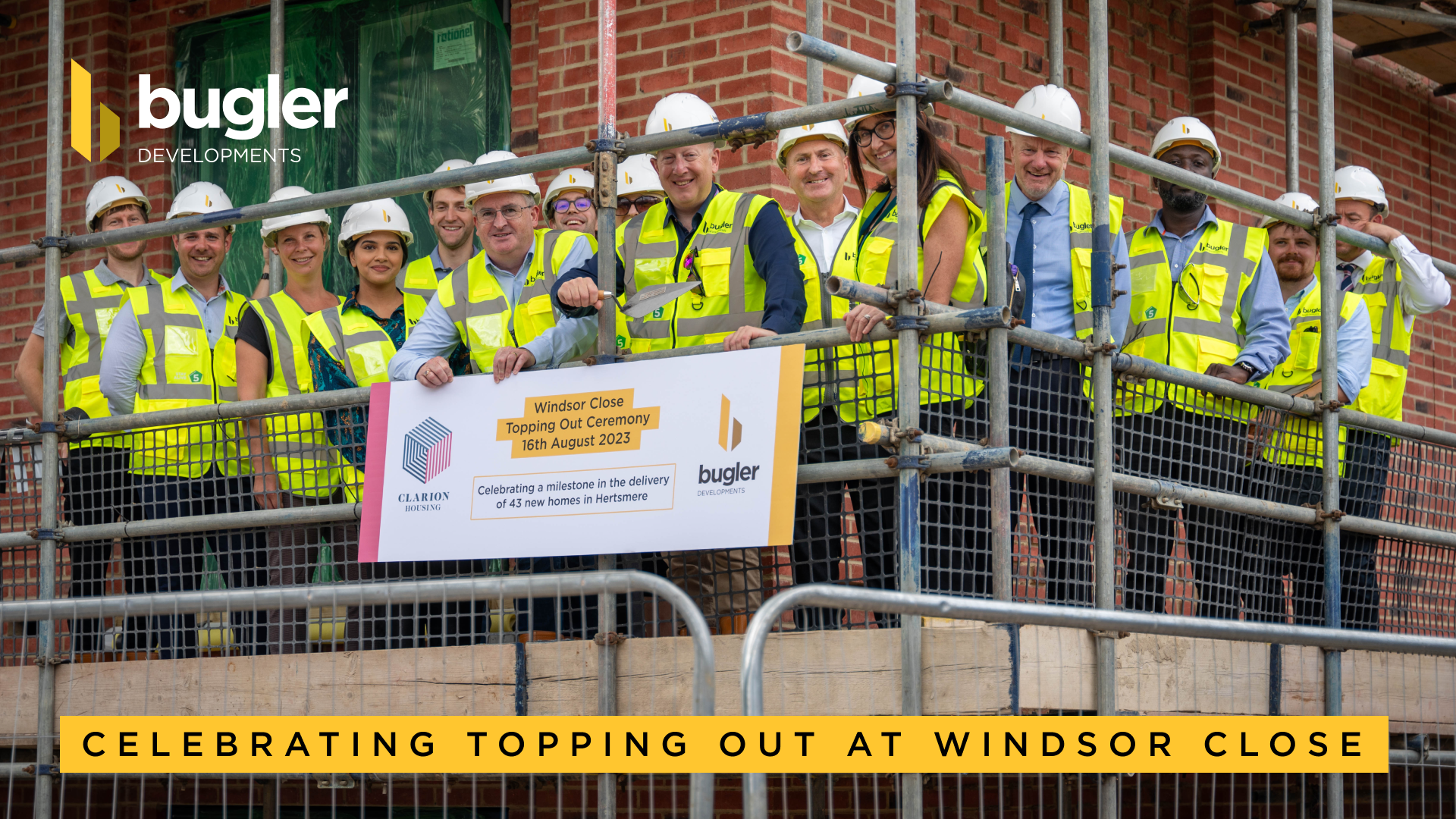 On Wednesday, 16th August we were pleased to celebrate a milestone in the construction of 43 apartments at Windsor Close, with a Topping Out Ceremony.
Bugler Developments are currently building these new homes in Hertsmere for Clarion Housing and the Topping Out marks an important stage in the build, reaching roof level.
Members of the Bugler Developments team were joined by those from Clarion Housing, and also we were pleased to welcome the Leader of Hertsmere Council, Cllr. Jeremy Newmark to site.
The Topping Out ceremony was conducted on the rooftop, with several of the attendees taking part in grouting the final stage of the roof, and also laying bricks as part of the process.
Attendees were then provided with a progress update on the development, and a tour of the key areas.
Andy Bugler, CEO Bugler Developments said, "Topping Out at Windsor Close marks a key point in the construction of these new homes for Clarion Housing and the Hertsmere community. It was good to celebrate this alongside Richard Cook and Clarion colleagues, in addition to Council Leader Cllr. Newmark.
It was great to have the opportunity to demonstrate to those present how committed the Bugler project team are to delivering these high quality homes and we look forward to welcoming all back next year for the completion ceremony."
Richard Cook, Group Development Director for Clarion Housing Group, said: "We are very proud to be working with Bugler and council partners to build this all-social rented scheme, which will deliver vital homes which local people can afford. We are passionate about providing homes for those who need them most and are delighted that this project is now fast becoming a reality."
Cllr. Jeremy Newmark, Leader of Hertsmere Borough Council, said: "I'm incredibly pleased to see the swift progress being made with this project which will make an important contribution to meeting our growing need for more affordable housing in Hertsmere."